I am so very thankful to have such a loving and caring wife. She somehow manages to look after me and the kids which she does so well without complaining.
My rash has spread to my tongue making eating solid foods incredibly painful. But Leanne is constantly bringing me mugs of broth, filling my water, making me a smoothie at the same time she is wrangling our three kids. She is incredible. I am so thankful to God that Leanne is my wife.
My rash does appear to be getting better. It seemed to peak in severity this past Monday.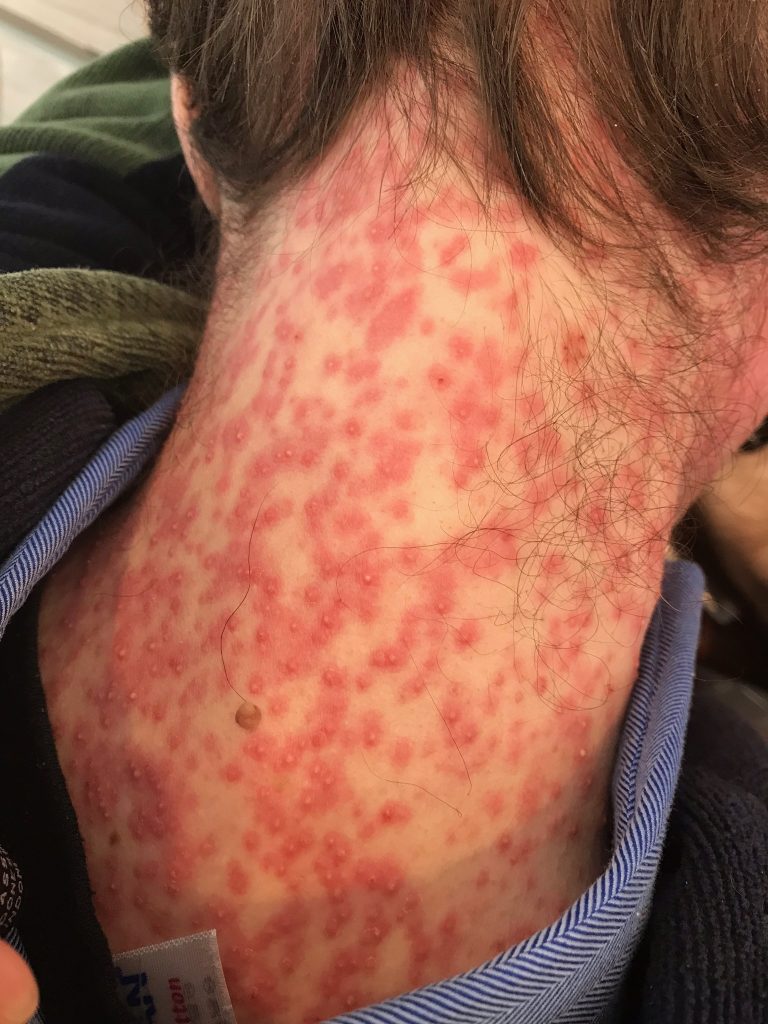 I had a few more cases of painful diarrhea this week. I'm not sure if the Imodium actually does anything.
My weight has been decreasing over the past few weeks. It's been really difficult to maintain it, although surprisingly my weight held fairly steady during my broth diet. Now here's an impressive number: If you compare my weight in 2009, the year Leanne and I got married, with my current weight almost ten years later, I am almost 70 lbs. lighter. A less impressive number would be to say that I am down about 12 lbs. this month.
My appetite has not been too bad but unfortunately I am limited to liquids and soft foods. I am slowly eating more solid foods but it is unlikely that my tongue will have time to heal fully before the onset of the next rash.
On a positive note, I managed to get a decent amount of work done this week.
Tomorrow I start my two-week chemotherapy cycle again. I wouldn't mind an extra week or two for recovery between cycles, but I know God will give me the strength I need to do it again. Only 5 more cycles to go.
Prayer Requests
Please pray for my tongue. Pray that it will continue to heal quickly and that it will not be affected so severely during the next chemo treatment.
Please pray that my painful diarrhea will become less painful.
Please pray that I pack on a few more pounds. Preferably not 70, but 5 or 10 would be nice.
Pray for strength. I think I have an idea now of what to expect and I will need God's help to get through it.